STRATEGIC NARRATIVE INSIGHTS 
The Word, Then The Image (With A List)
Everything begins with the word.
When I work with CEOs, founders, and business owners to help them build their strategic narrative, we write. We focus on effective oral and written communication as much as we can.
As I wrote in an earlier article this week:
Your words matter. The good ones are painful to find, but powerful to own.
But, what about the image then? Just like the word, the image matters too, of course; when used well, of course, just like the word. The image is powerful to encapsulate the emotional details that will make your narrative resonate.
Below, I created a one-page summary to visualize the Volvo Strategic narrative, based on my strategic narrative model. You can watch me go over this case study in detail in this video.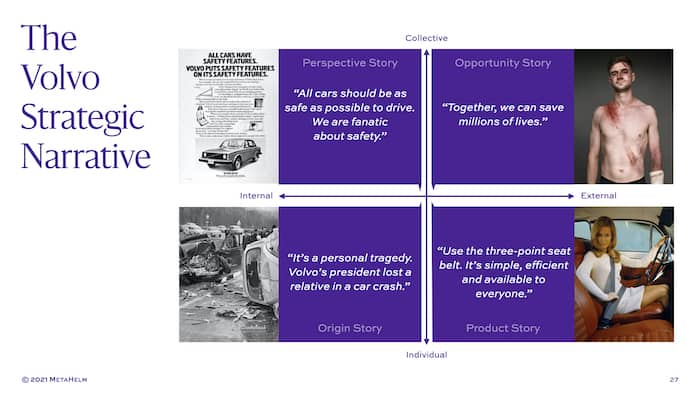 But here is the difference between the word and the image:
We all have access to the same number of letters and words to express our perspective and change the way people think in our market.
But we don't have equal access to the same images to convey that perspective.
Finding the right images can be challenging. Unfortunately, on this topic, you get what you pay for.
So, I've put together a list of image libraries that you might want to consider. They are not all free, but some have exciting choices. The trick is to spend enough time researching the keywords that lead you to the grail. Sometimes, those keywords turn out to be unrelated to what you were initially looking for but yield interesting results.
If you know of another decent image library outside of this list, will you PLEASE SHARE IT WITH ME?
Here is the list:
https://unsplash.com/
https://www.pexels.com/
https://burst.shopify.com/
https://www.freestock.com/
https://gratisography.com/
https://picography.co/
https://mmtstock.com/
https://blog.snappa.com/free-stock-photos/
https://nos.twnsnd.co/ - I find this one is pretty fun to explore.
https://www.shorpy.com/ - This one too.
https://pixabay.com/
https://stocksnap.io/
https://www.stocksy.com/
https://ukblacktech.com/stockphotos/
I hope this helps. But still, you should begin with the word.
Have a great weekend!
Guillaume