STRATEGIC NARRATIVE INSIGHTS 
eBook: Strategic Narrative
This is an email I've been longing to send you.
Here is Strategic Narrative: A Simple Method that Business Leaders Can Use to Help Everyone Understand Their Business, Get Behind It, and Believe In It.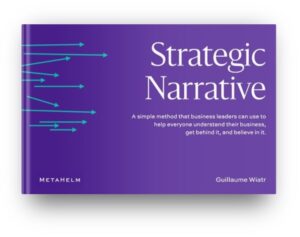 I've packed this book with invaluable lessons:
Why alignment is critical to the success of your company
Why traditional business storytelling isn't working
The difference between story and narrative
How to build an impactful company
The five powers of a strategic narrative
Ten principles to mobilize people
Click here to watch me narrate the book, view it online, or download it.