STRATEGIC NARRATIVE INSIGHTS 
Strategic Narrative Underground Session 2
Yesterday, during the second session of Strategic Narrative Underground, we focused on the first chapter of my book, the Narrative pattern.
Talking points about the first pattern - narrative:
To illustrate the characteristics of a strategic narrative, I used two stories about which I previously wrote: Nordstrom and Dick Fosbury. Those examples helped us explore the difference between stories and narratives and draw the following insights.
Narratives make people do incredible things.
They drive the growth of economies and industries.
Their biggest potential lies in the fact that they call people to action. That's how they differ from stories, which live in the past. These are close-ended. They happened already.
Narratives are open. There is a beginning, there's a middle, and it's up to you to create the end.
When you innovate, you introduce a new narrative. But your success is not guaranteed. You're going to face criticism.
Sketching the concept
To help you get clearer on the idea of narrative, I sketched out what the difference between story and narrative looks like.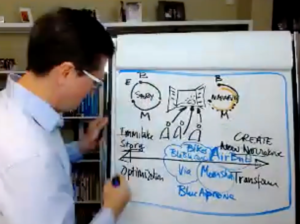 To explain what a strategic narrative does, I used the metaphor of a window that opens towards something different and hopefully better.
A strategic narrative helps you invite people to a new adventure.
When you're creating a new strategic narrative, you want to make sure that people can replicate the new approach or method you're proposing.
Also, a continuum that could help you position your business more consciously and decide if you're trying to imitate, in which case, you're probably after something like optimization. Or, are you trying to create a new narrative actually to transform the way we do something?
Companies or programs that have changed the narrative in their industry include Airbnb, BlaBlaCar, Blue Apron, The Moon Shot Apollo Program, and Via.
But, like everything, what was new one day becomes old. After someone constructs a new narrative, people try to imitate and optimize it. So, that narrative starts to slide towards optimization rather than transformation.
Join the Next Strategic Narrative Underground Session: Thursday, May 13th, at 9:00 am Pacific
Discover The Pattern Language For Strategic Narratives during a free weekly 30-minute flash course with me on zoom.
For the next two months, I am inviting you every Thursday at 9:00 am Pacific to attend a presentation and participate in a conversation about one of the patterns included in the book that I started writing.
I talk for about 15 minutes, and then we discuss specific aspects of what you've learned. I answer your questions, and this is also a chance for me to gather your feedback.
At the end of the call, you will get access to the Google document with the manuscript of my book. Each time you join, you get access to a new pattern. You can join for free as many times as you want.
Join us next Thursday, May 13th, at 9:00 am Pacific.
It's free.
Register in advance for this meeting: https://us02web.zoom.us/meeting/register/tZcvdemuqTsqG9VNmso2ZqPmiGXJP644gYfx
After registering, you will receive a confirmation email containing information about joining the meeting.
A bientot on Thursday.
Guillaume